This season is a much later start to our u-pick. Due to weather the berries are just not there yet. We are getting close and we want there to be plenty for everyone to pick!
Our goal is the beginning of August. We will post here and on our social media accounts when the u-pick is open.
For now we have been picking a select few for the stand. There are pints and 2lb clamshells in the stand.
Thank you for being patient and understanding!! We are just as anxious to open u-pick as you all are to come out!
Our 2022 Certified Organic prices for the season will be U-pick $3 lb  and we-pick (preorders) $4 lb
We will accept cash, check or Venmo. Please do not bring your pets into the blueberry field.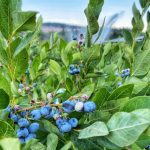 Renee, Kim and Kelly