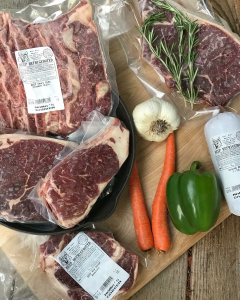 Another big change for Mama's! We are online with beef sales! Currently we have a few products available and will be adding much more throughout the next week! It's exciting for us and we hope this makes it even more convenient for everyone to be able to purchase and experience what so many have been talking about! We have linked our "buy beef" tab with PayPal. You can either sign into your PayPal account at checkout or use the "guest" option on PayPal. Once your order is received we will contact you within 24hrs to confirm everything. You have 2 options at checkout. (1) we can deliver and meet in Whatcom County for added charge of $10 or (2) you can choose to "pick up local" which is at Mama's Garden. Either way we will communicate with you via email and work out a date/time that suits both parties best.
All our beef which is black Angus and locally purchased from Kris and Kelly DeKriek in VanZandt  and then brought to Mama's where we continue to raise them up out on the pastures!  We know everything about our animals from birth to butcher. They are grass fed, no grain, no antibiotics, no added hormones and have a stress free environment. When we go to butcher we have Del Fox do all of our processing which is USDA inspected as well. Each cut is vacuumed sealed and frozen.
We have had great reviews on our beef and are very excited at this opportunity. Our steaks are incredibly tender, packed with flavor and just the right amount of marbling! You will not be disappointed! This is definitely "Food for the Soul" We hope you enjoy and look forward to providing you and your family with good, local beef. It's our goal to bring our customers the best! Please feel free to email us if you have any questions.
Enjoy ~ The Mama's
Kim Cook,  Renee Kalsbeek and Kelly DeKriek