We have some ideas for you! Are you stuck in a rut? Well take a look at some of our recent meals we made with our grass fed angus beef. Our first one is sheet pan nachos, then tacos and finally stew!  These recipes were so easy. Simple, fast and delicious! 
Nachos
1lb of Mama's Garden Ground Beef, 1/2 cup chopped yellow onion, (from 1 small onion) 1/2 teaspoon ground cumin, 1/2 teaspoon chili powder, 1/2 teaspoon salt, 1/2 teaspoon black pepper, corn tortilla chips, 1 (15 oz.) can pinto beans, drained and rinsed,12 ounces pre-shredded Mexican 4-cheese blend (about 3 cups) 1/2 cup minced red onion (about 1 small onion) 1/4 cup pickled jalapeño slices 1 medium-size ripe avocado, 1/4 cup chopped fresh cilantro. Add salsa and sour cream! Enjoy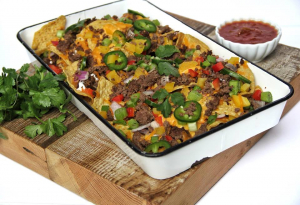 Next we have some skirt steak or Bavette steak up for grabs! Slice the skirt steak up for the perfect taco or slice up the Bavette steak for a steak salad! Either way you won't be disappointed, we promise! 
Check out the recipe from Steamy Kitchen Recipes
2 pounds skirt steak, trimmed of excess fat
salt and freshly ground black pepper
2 teaspoons cooking oil
2 cups loosely packed shredded lettuce
2 tomatoes, diced
2 tablespoons finely minced cilantro
1-2 avocado, pitted and sliced
1 cup crumbled queso fresco (or other shredded cheese of your choice)
1 lime, cut into wedges
8 flour or corn tortillas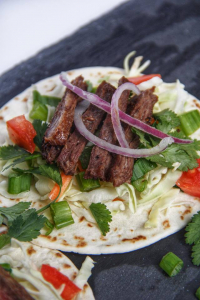 Finally we have homemade stew! There is something to be said about a hot, meaty homemade stew! Perfect for warming up on those cold winter days!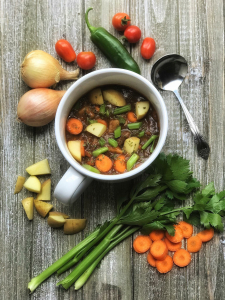 3 tbsp olive oil
2 tbs butter
3 lb of Mama's Garden pre-cut stew meat
1 medium onion, diced
3 cloves garlic minced
1/3 c all purpose flour
1/3 c fresh italian parsley chopped
6 sprigs thyme
3 leaves bay
4 whole cloves
sea salt to taste
freshly cracked black pepper to taste
1 tbsp smoked or sweet paprika
1 pinch red pepper flakes
1.25 qt water, filtered
3/5 c frozen green peas- thawed
1 c cherry tomatoes, diced
3/4 lb golden potatoes ( diced )
2 carrots, sliced
Instructions
Heat up a large cast iron dutch oven over medium flame.
Season the beef cubes with sea salt and black pepper and toss to coat well with 2 tablespoon of olive oil. Working in batches so you don't overcrowd the pan, brown the beef in the hot pot. Transfer to a bowl and keep warm.
Add the 2 tbs butter and a lug of olive oil to the pot and sautee the chopped onions until translucent (about 5 min). Add the garlic and red pepper flakes and cook one more min. Stir in the flour and paprika and cook for another minute or so making sure not to burn it.
Deglaze the pot with the warm water whisking as you add it to break up any lumps that might form. Bring to a simmer.
Add the beef cubes back to the pot, the bay leaf, whole cloves and thyme. Cover with a tight lid and allow it to simmer together for 2 1/2 hours stirring occasionally.
Add the potatoes and carrots to the stew, turn the flame up to med-low and simmer partially covered for another 20 minutes or so until the potatoes are cooked through. Remove from heat. If using potato gnocchi add them in the last 5 minutes of cooking or boil separately then add them to the stew.
Add the tomatoes and peas and give the stew a good stir. Cover with the lid for a few minutes until the tomatoes release their juices and the peas are just heated through.
Adjust seasonings to your taste and serve the homemade beef stew with crusty bruschetta and sprinkled with the fresh parsley.
OVEN METHOD
Preheat your oven to 375″F
Follow the above steps and after you added the beef cubes back into the stew cover with a tight lid and transfer the pot to the hot oven. Cook for 2 hours then add the carrots and potatoes or dumplings/gnocchi. Cook an additional 20 minutes or so until cooked through and the beef is fork tender.
SLOW COOKER/CROCK POT METHOD
Add the beef, onion, garlic, sea salt, potatoes, carrots, cloves, thyme and bay leaf to the slow cooker. In a bowl whisk together the water with the flour and paprika. Pour over the ingredients and drizzle with the olive oil. Cook on hight for 5-6 hours or on low for 11 -12
These are just a couple of ideas tested by Mama's and kid approved! Contact us today for your order. If you don't see a cut that you are looking for on our site please feel free to email us at mamasgarden3@gmail.com and let us know what you are looking for. We have several options! 
Enjoy, we sure did!
The Mama's